Our Contacts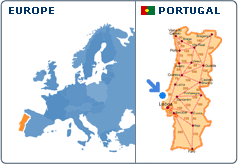 Address
Praia do Porto Novo
2560 – 100 MACEIRA TVD
PORTUGAL

GPS COORDINATES
39.17812439 N 9.35234501 W
Phone Number
+ 351 261 980 800
Road Map
The Riding Center is part of Golf Mar Hotel infrastructures and is located at Praia do Porto Novo, parish of Maceira, council ofTorres Vedras, district of Lisbon and fitted within the Portuguese West Tourism Region (Região de Turismo do Oeste). It is located approx 70 Kms north of Lisbon, has very good road access, all by motor-way up to exit number 9 of the A8 to Ramalhal and Vimeiro. From that point to the Center you will have to drive for 14 Kms, passing by A-dos-Cunhados, Vimeiro, Maceira and Praia do Porto Novo. The motor-way net that connects to the A8 comprises the A1 for those who come from the south and north of Portugal; those coming from the north should leave the A1 at Leiria and then follow to the A8 to Lisbon, For those coming from the centre of the country we recommend the access through the A15 from Santarem until they reach the A8.